You come for the beer....
You buy a ticket to this event for the beer, right?  We're working on the best mix of local and national craft beers you can get.  Maybe even some you can't get.  If you love craft beer come celebrate the end of a long week with us.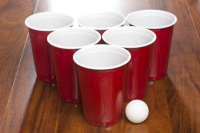 ...but you stay for the fun!
Anybody can get a bunch of craft beers together and call the event a festival.  We bring things to do like beer pong, giant beer pong, cornhole and more.  This isn't your fathers craft beer festival